High Quality Food Supplements & Medical Devices since 1987
State-of-the-art formulations, innovative raw materials, advanced technologies, production according to pharmaceutical standards and a team of professionals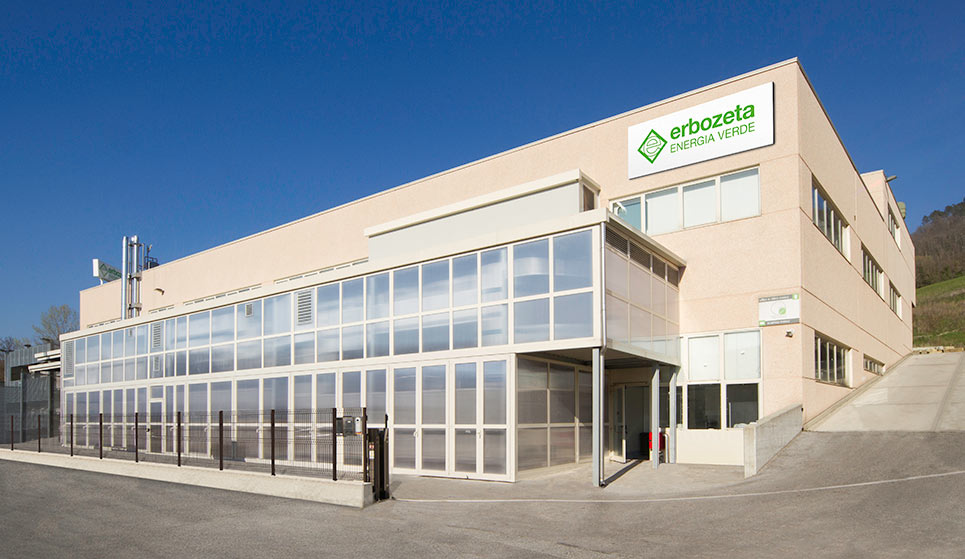 Erbozeta S.p.A. was established in 1987 in the ancient Republic of San Marino. The company produces and commercializes health products, such as Food Supplements and Medical Devices.
Founded as a commercial company and subsequently become a manufacturer, the company had a significant breakthrough in 2009 with the inauguration of a new advanced production facility of 5200 square meters, developed to provide customers with the quality standards of pharmaceutical grade. The manufacturing site is HACCP certified, Good Manufacturing Practices for food supplements in Europe, and the management system is ISO 13485 certified.
From a single company, Erbozeta S.p.A. has become a group through the creation of new commercial companies: Pharmaluce since 2008, Logus Pharma since 2013 and two international branches: Erbozeta Austria since 2013 and Erbozeta Asia since 2015.
Already present in 70 countries in the world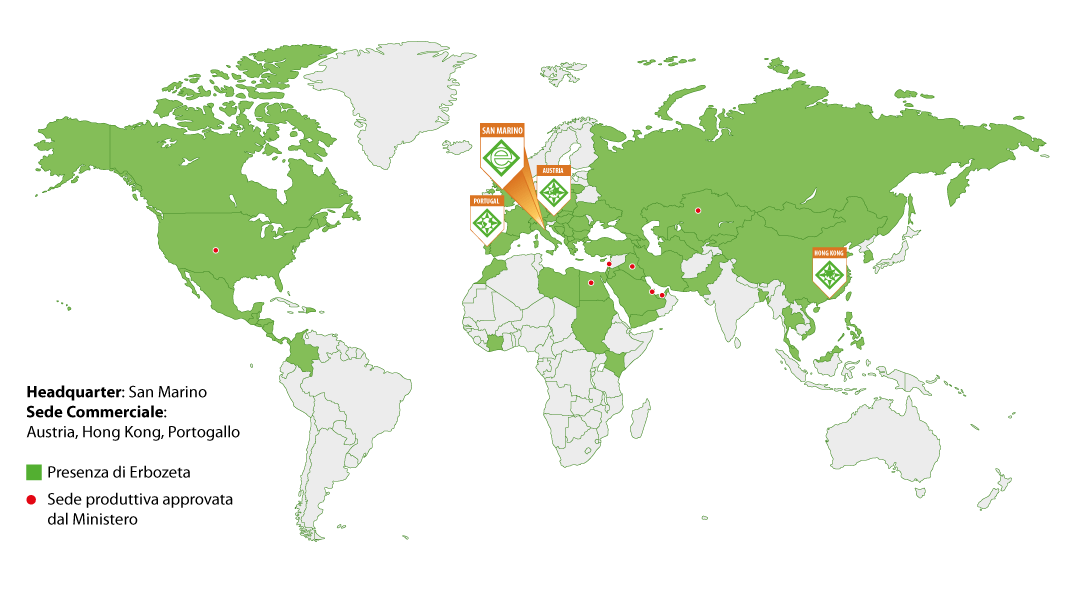 The expansion of the group into foreign markets started many years ago. Today ERBOZETA is present in Eastern and Central Europe, Southeast Asia, Middle East, Gulf, North African countries and former Soviet Republics.
The company is increasing its presence in the World by participating in important international exhibitions of the industry and building up new collaborations with distributors and local partners.
The group is continuously growing also thanks to Contract Manufacturing, which is an important part of its business activities.
1987 | 1994

Establishment of ERBOZETA S.p.a.

Establishment of ERBOZETA in the Republic of San Marino as a commercial company with the passion towards natural health products. A small family company starts to market and sale food supplements in the territories of the Republic of San Marino and Italy.

1995 | 2004

Production of first solid and liquid forms

Production of first solid and liquid forms (capsules, tablets, syrups, drops) in ERBOZETA's own manufacturing plant.

2005 | 2008

Increase of production capacity

Increase of production capacity and improvement of production lines (new machines for the production of sticks, sachets, sprays), enlargement of company's portfolio, investment into R&D, new packaging solution, foundation of the subsiadiary commercial company PHARMALUCE, internationalization of the Group.

2009 | 2014

Investment into a new manufacturing site

Investment into a new state-of-the-art production facility of 5200 m2 with Clean Rooms and Climatic Rooms, manufacturing process in accordance with GMP standards, acquisition of machines for fluid bed granulation and single-dose bottles Long Life, establishment of an area fully dedicated to the production of probiotic supplements, foundation of the subsidiary commercial company LOGUS PHARMA, establishment of an European branch office in Vienna - ERBOZETA Austria.

2015 | 2016

Expansion abroad

Strong expansion into foreign markets, presence in more than 40 countries in the World, increase of production capacity, development of new innovative formulations, technology upgrade ongoing: new pharmaceutical forms, production of Medical Devices class I, enhancement of production line of Long Life and syrups, establishment of a new warehouse of 2500 m2 to increase delivery efficiency, establishment of a new Asian branch office in Hong Kong - ERBOZETA Asia.

2017 | +

Expansion abroad

Strong expansion into foreign markets, presence in more than 50 countries in the world, ISO 13485 certificate for Medical Devices, technology upgrade: a big investment into a new machine for syrups production and automatic packaging with significant increase of production capacity (6000 pieces / hour). Erbozeta Group's business goal is to reach Turnover of 30 million Euro by next years.
Stability, Quality and Safety
A guarantee for the customer
Facility

Our facility was designed to reduce the possible contamination from outside sources thanks to an air filtration and ventilation system. The security system prevents unauthorized personnel from accessing the building. Storage, manufacturing and packaging areas are entirely separated from each other.

ISO 8 Cleanrooms

In these rooms temperature and humidity are constantly monitored and kept respectively at T=18 °C and RH <20%. The air filtering system is equipped with HEPA absolute filters with high retention efficacy.

Climatic Test Chambers

Climatic chambers carry out stability tests on products: one is under standard conditions (25°C, RH 60%) and the other is under "stressed" conditions (40°C, RH 75%).
In this way it is possible to follow and study the behavior of formulations during their shelf-life.

Equipment

Our maintenance team keeps all equipment functioning to a set of pre-determined quality standards. Equipment is regularly inspected and calibrated when required. Routine preventative machine maintenance is performed on a scheduled basis following written protocol.

Sanitation & Hygiene

In accordance with cleaning procedures all the equipment is thoroughly cleaned and sanitized after every production cycle. These exhaustive line clean-ups are conducted and recorded in order to prevent any possibility of cross-contamination. Our hygiene program covers regulations for all workers that come in contact with materials or equipment used in production.

Manufacturing Controls

When materials are received they are assigned a bar code in order to track electronically every future use, avoiding any human error.

Storage of raw materials

All raw materials are properly received, stored, sampled and tested before being used in production. There is a controlled-temperature warehouse for closed raw materials and another for open raw materials: all stored products are repackaged and internally numbered in batches to trace with certainty any subsequent picking of raw materials.

Electronic Weighing

Our electronic weighing system, with related printing of an adhesive label for each weighing made, guarantees absolute accurateness: if you do not dose an amount within the tolerance limits provided, the balance does not issue the label and does not allow the following weighing.

Fluidised-bed Granulation

Powders are processed through fluidized-bed granulation: this process brings many advantages among which are an increase in mixture solubility, better compressibility and also homogeneous granulometry, thus preventing powder segregation, which can cause an inhomogeneous dose distribution of active ingredients.

Storage of finished products at controlled temperature and humidity

The finished product warehouse is under controlled temperature and humidity (25° C and RH 60%): this system, integrated into the entire production line, continuously monitors temperature and humidity in the processing areas.

Highly-automated Packaging system

The phases of primary and secondary packaging are highly automated: in this way the operator does not intervene directly on the product thus guaranteeing minimum contamination and maximum security.

Product testing

All finished products are sent to certified laboratories for further testing depending on the customer's requirements. Samples from all production lots are kept in case further testing or quality checks are required. All quality documentation and records are signed, dated, and kept secure for the period of time required by regulations.