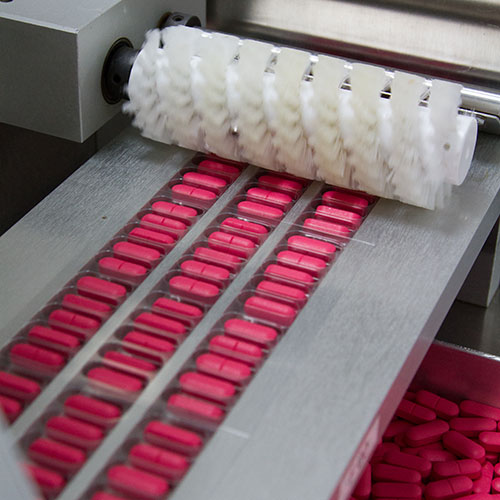 Solid forms area
Gelatin and vegetable capsules
Swallowable tablets
Chewable tablets
Buccal tablets
Effervescent tablets
Powders and granules in single-dose sachets and jars
Sticks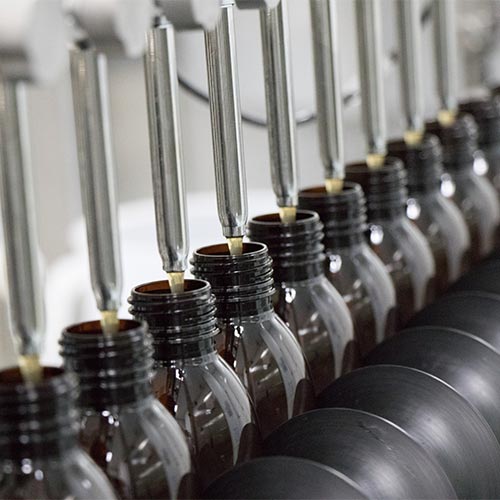 Liquid forms area
Syrups
Drops
Oral solutions
Single-phase bottles
Two-phase bottles with reservoir
Oral sprays
Nasal sprays
Sticks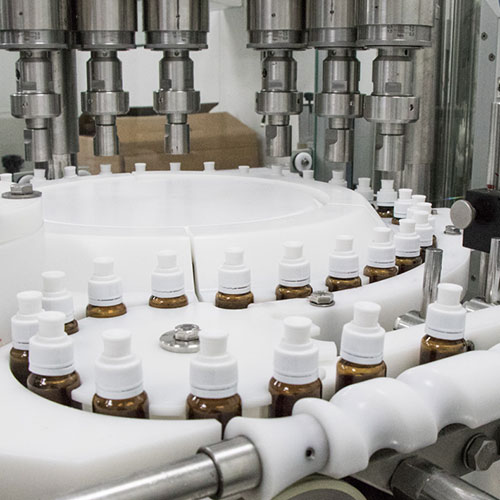 Probiotics area
Capsules
Sachets
Sticks
Single-dose bottles

Syrups - Oral solutions

A fully automated line for the filling and packaging of syrups: it performs all production stages (bottle filling, label gluing, assembly of the flacon and of the leaflet inside the outer box, up to the final preparation of the shipping carton. It reduces any possible human error through a digital control of materials with an increased production capacity. This is a closed circuit line, which avoids any contamination of the raw material; it also ensures the maximum performance of the machine and the highest quality of the finished product.

We can produce oral solution from 50ml flacons to 500 ml bottles in PET or glass bottles and flacons: this allows us to identify and propose to customers the ideal format for every specific market need.

Production capacity: 6000 pieces/hour

Long Life

New packaging solution patented by INGE S.p.A. (Milan) and filled by ERBOZETA S.p.A. (Republic of San Marino) Our research is not limited to raw materials only, but it pays attention also to innovative packaging materials. LONG LIFE is an advanced single-dose bottle with one-piece separator cap which ensures stability and conservation of solid powdered active principles by perfectly isolating them from the liquid part. ERBOZETA has cutting-edge machines and production capacity to fill both the cap and the bottle and provide its clients the finished product.

PRESS, SHAKE and DRINK
Perfect for probiotics and multivitamins in single-dose bottles
The cap, which is sealed with a polylaminated film, ensures an effective barrier action guaranteeing the shelf life of the product.
Easy and safe

Production capacity: 60 million pieces/year

Sticks

Our production facility is able to produce a wide variety of sticks in various sizes and materials.

Sticks are perfect for the on-the-go nutrition, because they are easy to open and use. Thanks to our innovative technologies we are able to produce sticks with granulates or liquids.

Sachets

Our production facility is able to produce a wide variety of sachets in various sizes and materials.

Sachets are perfect for the on-the-go nutrition, because they are easy to open and use; they are also ideal for the production of granulates.

Tablets

We offer the possibiltity to produce tablets of various sizes and colors in blisters or pill bottles.

Thanks to the different sizes of our machines and to the numerous coating possibilities at our disposal, we are able to produce orosoluble, prolonged-release or gastro-resistant tablets.
With professionalism and confidentiality, Erbozeta S.p.A. offers a complete manufacturing service for third parties offering high quality products, designed for the specific needs of each client, implemented in full compliance with high quality standards during each phase of the entire production cycle.
For information please contact us using the form below or by calling +39 0549 907000.